Use Cost Per Click Advertising to Increase Online Sales!
Just imagine getting highly qualified visitors to your Website, guaranteed!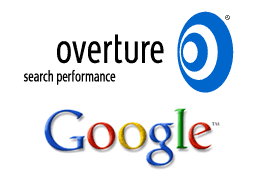 Now you can quickly reach 90% of Internet users on the Web's most visited destinations. Cost-per-click advertising is how it's done. The leaders in CPC advertising are Overture.com and Google Adwords.

It all started by creating your text listing ads, choosing your keywords, and deciding how much you are willing to pay per click. Best af all, you only pay for people who actually visit your site.

You get top ranking on some of the most visited sites on the web including, Yahoo, MSN, AOL, Google, Ask Jeeves and more. If you are looking to drive high quality, targeted traffic to your site, there is no better way than cost per click advertising.

Learn More about Cost Per Click Advertising:



View our Google Adwords Page


Have any questions about cost per click advertising?
We would be happy to answer any questions you may have in regards to cost per click advertising. Contact us today with any questions.